London 4 May 2018. Speech at the SII West Round Table. The Landmark Hotel.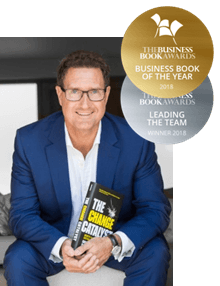 By Campbell Macpherson. CEO, Change & Strategy International Ltd
Download the PDF of the full speech here.
Good morning. It is a privilege to be here. What I am going to talk to you about this morning is my view on what it means to be a genuine long term investor.
But first I have a confession to make: I am not an investment guy.
I'm a strategy guy.
At an M&A conference in Florida last month, I was introduced as 'The C Suite Change Guy'. 6 weeks ago, my book, The Change Catalyst won the award for the Best Leadership book and the overall title of 2018 Business Book of the Year at the recent Business Book Awards in London.
I help CEOs, CIOs and leadership teams clarify their strategy, build cultures that embrace change and align their organisations to deliver.
So, I bring a different perspective to this topic – it is the perspective of the outsider of sorts – bringing to the table what Richard Branson used to describe his attitude whenever he entered a new industry – 'Intelligent Naivety'.
And as some company I have never heard of put is so brilliantly: 'The best way to bring in new ideas to your company is to hire an outsider.'
Every asset owner I have met says they are a long term investor – in much the same way that every CEO declares that their greatest asset is their people – automatically and often without thinking about it too much.
I have attended dozens of investment and asset allocation conferences over the years and have started to wonder if being a long term investor has become something of a throw-away line – or perhaps it is just that many of us just haven't paused to properly define it for our organisations.
So today, I am going to do two things:
Bust some myths that I see about Long Term Investing
Give you my view of what a long term investor looks and feels like. I will put a straw-man definition out there for you to think about, disagree with, throw rocks at and hopefully find a few nuggets of value amongst the quotes and cartoons.
Let's get started.
. . .
Download the PDF of the full speech here.